The basic version is free and is available on the WordPress.org directory
The Pro version of the plugin is available here on this website and expands on the features provided by the basic version.
Basic Version
The basic version contains the following settings. For each setting you can configure the 'Font Family', 'Font Weight' and 'Font Style'.
Body Typography
Headings Typography
Buttons and Inputs Typography
Site Title Typography
Site Description Typography

Navigation Typography

Content Typography

H1 – H6 Typography
Sidebar Headings Typography
Sidebar Content Typography
Footer Headings Typography
Footer Content Typography
Pro Version
The Pro version includes all the settings. However for each setting you can also configure the 'Font Size', 'Color' and 'Line Height'.
In addition to the extra settings, the Pro version features two new Panels: 'Custom Elements' and 'Font Loading'.
Custom Elements
Custom Elements enable infinite flexibility. They allow you to create your own Typography settings that target any element(s) on your website.
For example, you could create a Typography setting that only applies to tables: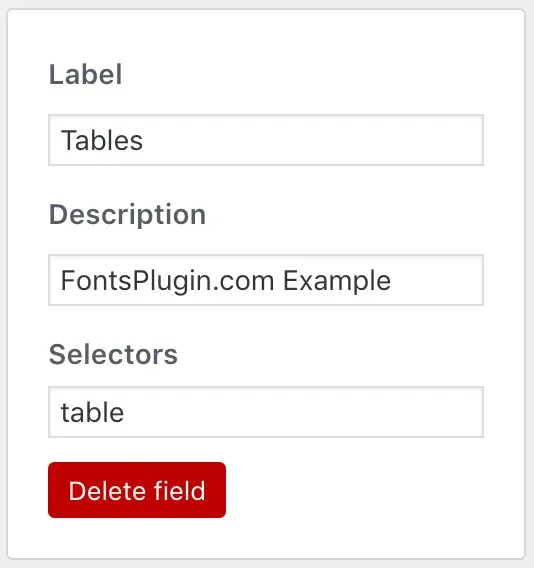 The 'Selectors' field accepts any valid CSS Selectors. That means there is no element on your website that is off-limits.
Pro users can create unlimited Custom Elements.
Font Loading
Most fonts contain a couple of weights: regular, bold, etc. In some cases you won't need all of a fonts weights. For example, headings are always bold.
However, loading each font weight does add some load time to your website. That's why Pro users can choose to only load the font weights they need.